This building of individual quality is Holy Trinity Catholic Church in London Road, Newcastle. It was built in 1833-4 by Father James Egan, the first Roman Catholic priest of Newcastle, who also acted as his own architect.
The whole facade is built from common blue bricks with row after row of shallow arcading. The central window has intersecting tracery built of bricks, and the nave top is flat and embattled, as are also the tops of the lower aisles. At first, the north aisle was a school and the southern one, the priest's residence. The congregation was mainly of Irish extraction by the mid-19th century and a succession of Irish priests served the church. In 1865 a separate school was built, and from 1892 the ministry of the clergy has been supplemented by the Sisters of Mercy.
The origins of the church go back to 1791, when the Relief Act allowed Roman Catholics to worship in registered places; in Staffordshire there were 12 registered chapels, and the names of 15 priests were recorded. Shortly afterwards emigre priests and nuns started to arrive in England, many escaping from the French Revolution, and several of them settled in Staffordshire. One of the first was a French priest, Louis Martin de Laistre, who came to Mucklestone about 1794 as tutor to the rector's children. For a time he said Mass at the home of a Catholic farmer at Napley Heath, and in 1796 took charge of a mission at Ashley, from whence he would travel to Newcastle and celebrate Mass at the Shakespeare Hotel in Brunswick Street, as did the priest from Cobridge.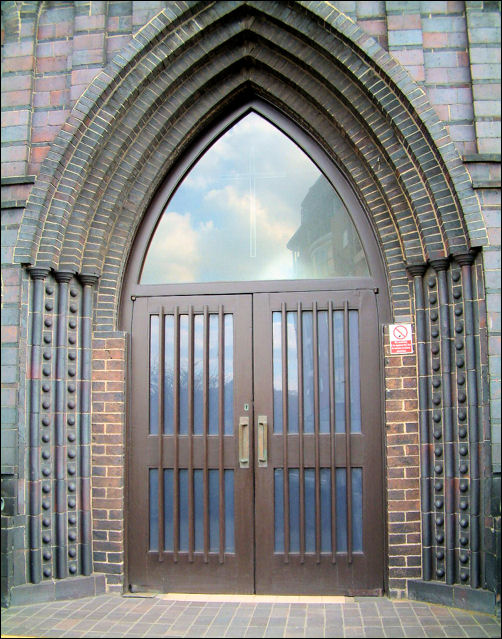 During the latter part of the 18th century and the early 19th the law became more relaxed in its treatment of Catholics, and by 1826 Newcastle had a recognised mission of its own. With the rapid growth of population, the Catholic community also began to grow, and by the first half of the 19th century they had erected 14 new churches in Staffordshire towns. In 1831, Father James Egan, who was attached to the Ashley mission, moved to direct work at Newcastle, and shortly afterwards began to design and plan the building of Holy Trinity Church."
Neville Malkin 26th May 1976